Baan Laksasubha Resort Hua Hin
IBaan Laksasubha Resort Hua Hin Tranquil water laps onto the white sands in an original, exquisite setting. At Baan Laksasubha, Guest villas share the same grounds with the owner's original family home, creating a cozy environment. The decor reflects the traditional lifestyle influenced by the Thai nobility.
Services and facilities are specifically designed to accommodate families who seek the comforts of a private residence filled with activities for adults and children. Baan Laksasubha consists of 16 two-story villas of total 52 rooms. Each set in its own lush landscaped garden, with plenty of space plus a large terrace and bar. Guest can choose to enjoy their holidays in 5 comfortable villa types: Tamarind Studio, Garden view, Garden Veranda, Suite 2 Bedrooms (Family room), and Villa 3 Bedrooms.
Discovered in the early 1920s by King Rama VII, Hua Hin is the oldest and most traditional beach town in Thailand. This tranquil fishing village was turned to into a royal resort town and consequently became popular among Thai nobility. Hua Hin is home to the Summer Palace of the King, 'Wung Klaii Kung Won"meaning Far from worries, elegant Victorian - style architecture, and the country's first standard golf course. For generations, Hua Hin has continued to provide a peaceful sanctuary where picturesque environment co-exists with true sense of historical identity.
Click here for Baan Laksasubha Resort fact sheet!
Private BBQ Menu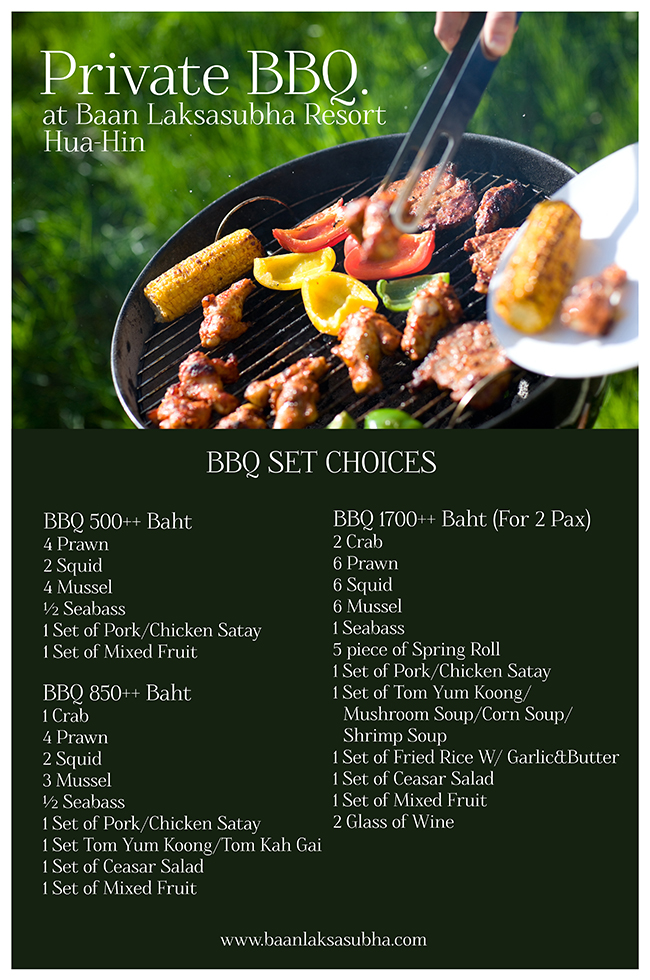 Seefood Basket