Mr. Deepak Ohri, Chief Executive Officer
lebua Hotels & Resorts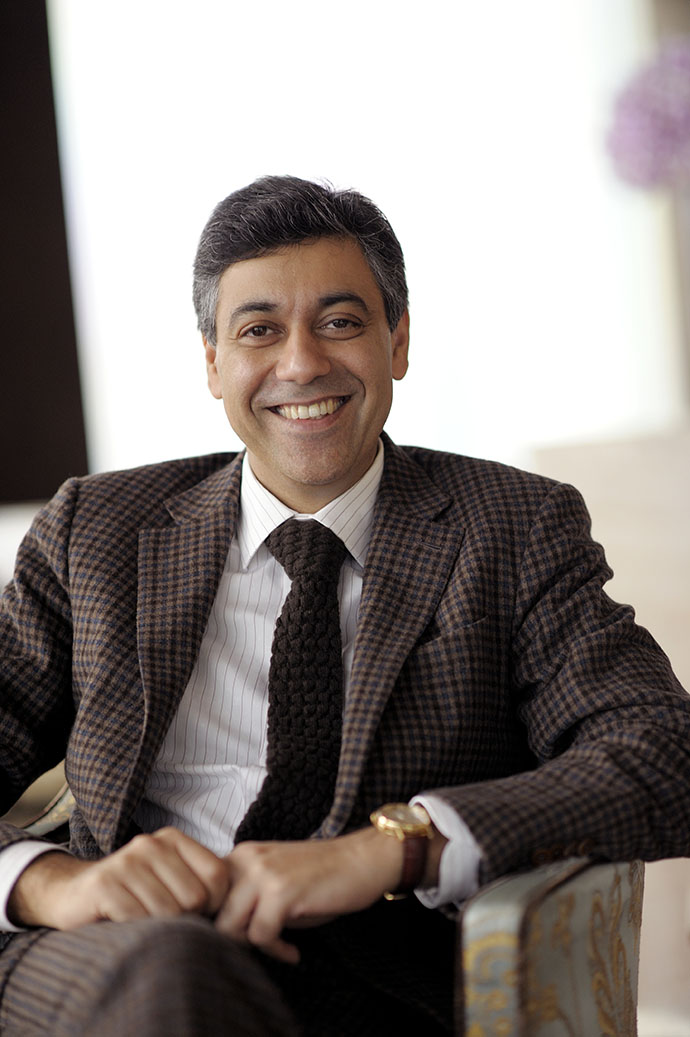 Deepak Ohri, a name that has become synonymous with the 'luxury experience', joined lebua at its inception in 2003 and has not only brought the vision of the brand to reality but expanded this vision
across continents with several of the world's finest five-star hotels, restaurants and bars.
Mr. Ohri introduced The Dome at lebua, Bangkok's preeminent culinary destination, which includes Sirocco (the world's highest open air restaurant), Sky Bar (named "the most stunning rooftop bar you'll ever see" by The New York Times in 2013), Breeze (highlighted by USA Today as one of the world's "10 most cutting-edge restaurants" in 2014); and Mezzaluna (honored as a 'Foodie Top 100' fine-dining mecca in 2013).
In 2006, Mr. Ohri rechristened the Meritus Hotel as the all-suite lebua at State Tower, launching lebua Hotels and Resorts. Today, lebua's award-wining lodging collection includes Bangkok's best-performing luxury hotels (Tower Club at lebua and lebua at State Tower), three magnificent properties in India (Devi Garh by lebua, Udaipur; lebua Resort, [aipur: and lebua Lodge at Amer, [aipur), and an exclusive property in New Zealand (Lake Okareka Lodge by lebua).
Recently, Mr. Ohri announced the expansion of lebua's dining concepts to Europe through a strategic partnership with Steigenberger Hotel Group, starting with the 2015 launch of the restaurant Breeze in Frankfurt, Germany.
Drawing on a unique vision of hospitality that aspires to tap into a deeper level of exchange with guests and create lasting emotional connections, and supported by a career that includes operational and executive roles with companies such as Kempinski Hotels and Taj Hotels Resorts and Palaces, Mr. Ohri is recognized as an innovative industry leader, making him a sought-after speaker on luxury and strategy at international conferences and lecturer at leading business schools such as the Indian Institute of Management Bangalore, the Indian School of Business Hyderabad, INSEAD, the Kellogg School of Management at Northwestern University, and Harvard Business School.
Mr. Ohri was invited to speak at the prestigious Forbes Global CEO Conference in Singapore (2008) and in Kuala Lumpur (2009), and has spoken at other notable events including the Financial Times Business of Luxury Summit in Los Angeles (2010) and in Lausanne (2011); the Real Estate Funds and Emerging Markets Conference in New York (2011); the World Travel and Tourism Council (WTCC) Global Summit in Abu Dhabi (2013); the Asia Pacific Hotel Development Conference in Bangkok (2013); the WTCC Asia Summit in Seoul (2013); the Resort Development and Hospitality Conference in Dubai (2014); and the Luxury Hospitality Conference in Athens (2014).
Mr. Ohri is a three-time recipient of both the Most Enterprising Entrepreneur Award (2008 to 2010) by the Hospitality Asia Platinum Awards and The Best in Asia: Entrepreneur of the Year Award (2011 to 2013). Mr. Ohri's contribution to the hospitality industry was recognized with the Achiever and Leaders Award by the Indira Group of Institutes endorsed by CMO Asia and the Asian Confederation of Business (2012) and most recently with the Thought Leaders Award for Innovation in Hospitality from the Stars of the Industry Group (2013).
Mr. Ohri is a member of the World Travel and Tourism Council and also serves on the advisory board of Singapore's Cornell-Nanyang Institute of Hospitality Management.
Under Mr. Ohri's leadership, lebua has garnered countless international awards, most recently the World's Leading All-Suite Hotel Award by the World Travel Awards (2013); Top 10 Hotel in Thailand by the Conde Nast Traveler Readers' Choice Awards (2013); One of the World's 500 Best Hotels by Travel + Leisure (2013); the Travelers' Choice Award by TripAdvisor (2013); Restaurant of the Year by the Hospitality Asia Platinum Awards (2011 to 2013); and Thailand's Best Restaurants by Thailand Totler (2011 to 2014).
Mr. Ohri continues to explore hotel management contracts and dining expansion opportunities for
lebua in exceptional city and resort destinations worldwide.
Recent Awards

2008-2010
MOST ENTERPRISING ENTREPRENEUR AWARD from the Hospitality Asia Platinum Awards, Malaysia
2011-2013
THE BEST IN ASIA: ENTREPRENEUR OF THE YEAR AWARD from the Hospitality Asia Platinum Awards, Singapore
2012
THE ACHIEVERS AND LEADERS AWARD from the Indira Group of Institutes, India, endorsed by CMO Asia & the Asian Confederation of Business
2013
THOUGHT LEADERS AWARD for Innovation in Hospitality from the Stars of the Industry Group
For reservatons, please contact:
State Tower, 1055 Silom Road, Bangrak, Bangkok 10500 Thailand
T: +66 (0) 26249999 F: +66 (0) 26249998 resvn@lebua.com www.lebua.com